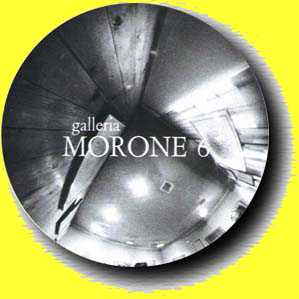 L'ARTE NON E' MODA = PAROLA, PENSIERO, COSTUME, IMMAGINE.

CHI CERCHI / CHE PERIODO / STORIA DELLA GALLERIA / ARTISTI DA CONOSCERE / MOSTRA IN CORSO / SEGUIRA' / ARCHIVIO CARMASSI / ACCADEMIE E DINTORNI

ART IS NOT TREND=WORD, THOUGHT, ATTITUDE, IMAGE
SEARCH / PERIOD / EXHIBITIONS AT MORONE SINCE 1965-66 / ARTISTS TO BE KNOWN / CURRENT EXHIBITION / WHAT'S NEXT / ARCHIVE CARMASSI / ACADEMIES & SURROUNDINGS
E MAIL xplanart@galleriamorone.it


created by KATIA SPADON
Kind Art Public, This journey of mine, which belongs to a work in progress "Accademie & Dintorni" (Academies & Surroundings) started in Italy from Milan (Brera Academy) because of some obvious grounds (for its history and prestige rather than its beeing near the Morone Gallery, where I work since 1983 with my father, Enzo Spadon, who founded it in 1965). It will be developed through a geographical track, exhibiting in my spaces young artists from Turin, Bologna,Genua, Venice, Rome and mean art academies all over Italy and Europe too. The artistical line pursued is an abstract-lyrical one, some "new Lyrism" (the "new" indeed must not be felt in the image, but into the kind of energy the works may give). The aim is not hoping out the talented genius who will be changing the true sense of art, but proposing artistical situations, likely to be urging on the sensibility of whom will be observing it, in a geographical and surely wide ranging perspective. In May is the first exhibition of a young artist "outside the academical circuit", representing those " surroundings" of an artistical life which still keeps, from the academical spirit, the absolute belief in their research, still young to A prospect of what "happened" time and again at each "stop" may be given by leaving through the Album "ABC DELLA PITTURA", (ABC OF PAINTING): The alphabetical order, indeed, sets the names of young authors of the works on paper, who will not deserve to be penalized by the schematical structure of a plan. I hope to have made you curious and to meet you soon by my gallery.
---
October 1995 THE EXHIBITIONS IN PLANNING WILL BE TIME AND AGAIN BY THE SPACES OF ACTIVITIES AND COORDINATION OF THE ENTERPRISE "ACCADEMIE & DINTORNI "(ACADEMIES & SURROUNDINGS), NOT IN THE TOWN OR REGION WHERE "ACCADEMIE & DINTORNI " HAPPENS TO FIND.

I STOP: MILAN , BRERA ACADEMY (ACCADEMIA DI BRERAindex.html [Kinya (oggetti ) [Antonio Sammartano (opere su tela) ["Energia Vitale" (Vital Energy) 5-10-1995/15-1-1996

NEXT, ALWAYS FROM MILAN (OR LOMBARDIA REGION)index.html [Viviana Vitelli(sculptures of paper ) [Tetsuro Shimizu (opere su tela) ["Forza Sinergica" (Synergetic Appeal) index.html 18-5/20-7-96

II STOP: TURIN , FINE ARTS ACADEMY (ACCADEMIA ALBERTINAindex.html [Gianluca Cannizzo (oggetti )index.html [Laura Ferrando (opere su cartone)index.html ["Urgenza Vissuta" (Past Urgency) index.html 17-9/15-2-1997index.html

NEXT, ALWAYS FROM TURIN (OR PIEMONTE REGION)index.html [M. Luisa Borra (olio su tela)index.html [Alessandro Santoro (Acrilici su tela)index.html ["Racconto dinamico" (Dynamical Report 4-2/30-3-1997

III STOP: VENICE , FINE ARTS ACADEMY [Concepcion Garcia Sanchez (oggetti e quadri) [ Marco Chiarato (olio su tela) [ "Dimensione Caleidoscopica" 10-4-/24-5-1997

NEXT, ALWAYS FROM VENICE (OR VENETO REGION) [Alberto Freo (tecniche miste su tela di grande formato)

[

Samantha Frescura (olio su tela di grande formato)

[

"Moto indagatore" - 8-10/30-11-1997

IV STOP: BOLOGNA, FINE ARTS ACADEMY

[Fabio Bracciotti (tecniche miste su tela) [ Serena Piccinini (installazione e disegni) [ Spazio a meta'" - 23-4/10-6-1998

NEXT, ALWAYS FROM BOLOGNA (OR EMILIA ROMAGNA

[Matthias Biehler (cibachrome and cement)

[

"Invisible Reality"

[Andrea Birgit Hess (reliefs and oil on canvas

V STOP: GENUA, FINE ARTS ACADEMY

NEXT, ALWAYS FROM GENUA (OR LIGURIA REGION)