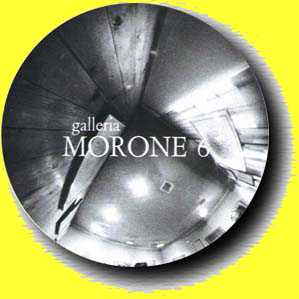 cliccare immagine per avanzare
IL TRAPEZIO DELLA POLITICA INTERNAZIONALE ANNI 80. IL TRAPEZIO IN BILICO CONTROPPESATO E' INDECISO SU QUALE TRIANGOLO APPOGGIARSI CON LA SCHIUMA DEL DUBBIO IN TESTA, O DELL'ERRORE CON DIFETTO DIFETTOSO.
Regressivo Consapevole. Esempio di regressione della specie "belle arti",
asili nido, asili patologici o del talento dei senza mezzi,1986.
olio su tela, 180x400 cm.

-THE TRAPEZIUM OF THE INTERNATIONAL POLITIC OF THE EIGHTIES. THE COUNTERPOISED
BALANCE IS UNCERTAIN ON WHAT TRIANGLE LEAN WITH THE FOAM OF DOUBT ON THE HEAD. OR
OF THE MISTAKE WITH FAULTY FAULT
Aware Regressive. Example of regression of the species "Fine Arts",
Kindergartens, pathological asylum or of the talent of the meanlesses, 1986
Oil on canvas, 180x400 cm.

-LE TRAPÈZE DE LA POLITIQUE INTERNATIONAL DES ANNÉES 80. LE TRAPÈZE EN ÉQUILIBRE INSTABLE
CONTREBALANCÉ EST INDÉCIS SUR QUEL TRIANGLE S'APPUYER AVEC L'ÉCUME DU DOUTE DANS LA TÊTE OU DE L'ERREUR AVEC DÉFAUT DÉFECTEUX
Conscient d'être régressif; example de régression de l'espèce "beaux arts":
jardins d'enfants, asiles d'alienés ou du talent des sans-moyens,1986
huile sur toile, 180x400 cm.

-DAS TRAPEZ DER INTERNATIONALEN POLITIK DER ACHTZIGER JAHRE. DAS TRAPEZ AUF DER
AUSBALANZIERTEN KIPPE IST UNENTSCHLOSSEN, AUF WELCHES DREIECK ES SICH MIT DEM SCHAUM DES ZWEIFELS IM KOPF STÜTZEN SOLL, ODER ÜBER DEN IRRTUM MIT FEHLERHAFTEN FEHLERN
Bewußt Regressives; Beispiel für die Regression der Art der "Schönen Künste":
Kindergärten, Irrenanstalten, oder vom Talent der Talentlosen. 1986
Oel auf Leinwand, 180x400 cm.

-EL TRAPECIO DE LA POLÍTICA INTERNACIONAL AÑOS 80. EL TRAPECIO EN VILO CONTRAPESADO E
INDECISO SOBRE EL TRIÁNGULO EN EL CUAL APOYARSE CON LA ESPUMA DE LA DUDA EN LA CABEZA, O DEL ERROR CON DEFECTO DEFECTUOSO
Regresivo Consciente; ejemplo de regresión de la especie "Bellas Artes":
guarderías,asilos patológicos o del talento de los sin medios,1986
Oleo sobre tela, 180x400 cm.
L'ARTE NON E' MODA = PAROLA, PENSIERO, COSTUME, IMMAGINE.
CHI CERCHI / CHE PERIODO / STORIA DELLA GALLERIA / ARTISTI DA CONOSCERE / MOSTRA IN CORSO / SEGUIRA' / ARCHIVIO CARMASSI / ACCADEMIE E DINTORNI

COPERTINA

ART IS NOT TREND=WORD, THOUGHT, ATTITUDE, IMAGE
SEARCH / PERIOD / EXHIBITIONS AT MORONE SINCE 1965-66 / ARTISTS TO BE KNOWN / CURRENT EXHIBITION / WHAT'S NEXT / ARCHIVE CARMASSI
ACADEMIES & SURROUNDINGS
per contattarci:
E MAIL xplanart@galleriamorone.it
---